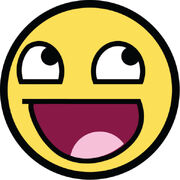 A new era has just started; I, Uditore, have adopted this wiki and am thus the new Bureaucrat.
Help needed
To start up a wiki, it needs a community, rules and a hierarchy. Most of these things are standard at every wiki, so I'll just list what I think this wiki needs right now.
A sidekick admin.
A few rollback users.
A community starter.
A coding professional.
A few efficient and experienced editors.
A news tracker.
All of these users will be in my direct wiki-environment and should thus be willing to spend some time to improve the wiki, only then, after time, we can make this place a start for something big and important.
Editors
Welcome to the wiki, new editors and users, you can help the wiki by adding information, pages, and even templates. Be reminded to use proper spelling and grammar on every page, do not add speculation and, of course, do not vandalize anything. You can chat with other people here who also like the game, and please, feel welcomed any time to ask me your questions on my talkpage, or, to inform me of any news on the game.
The wiki welcomes you.
Ad blocker interference detected!
Wikia is a free-to-use site that makes money from advertising. We have a modified experience for viewers using ad blockers

Wikia is not accessible if you've made further modifications. Remove the custom ad blocker rule(s) and the page will load as expected.